The Hotel Dieu Shaver Foundation
The Hotel Dieu Shaver Health & Rehabilitation Foundation raises and manages funds to support exemplary patient care through the purchase of patient-care equipment and improvements to the overall patient care experience at Hotel Dieu Shaver.
---
We welcome you to visit us at Foundation office! We are located in the inpatient building at 541 Glenridge Ave., St. Catharines within The Hotel Dieu Shaver Health & Rehabilitation Centre which is an independent health system, is the only rehabilitation hospital in the Niagara Region and is a Centre of Excellence in rehabilitation and complex care.
While we, as Canadians, enjoy no-cost hospital care, the government does not provide funding for medical equipment used by the many clinicians who treat patients here.
---
Meridian Celebrity Ice Cup-THANK YOU!
A huge thank you to our sponsors, teams, players and volunteers for helping us raise $175,000 at our 2nd annual Celebrity Ice Cup!
Sign up for the 2017 season for your chance to draft players like Rick Vaive, Paul Coffey and Darcy Tucker! More information at www.celebrityicecup.ca
---
This year, we are raising money towards priority equipment on our Wish List: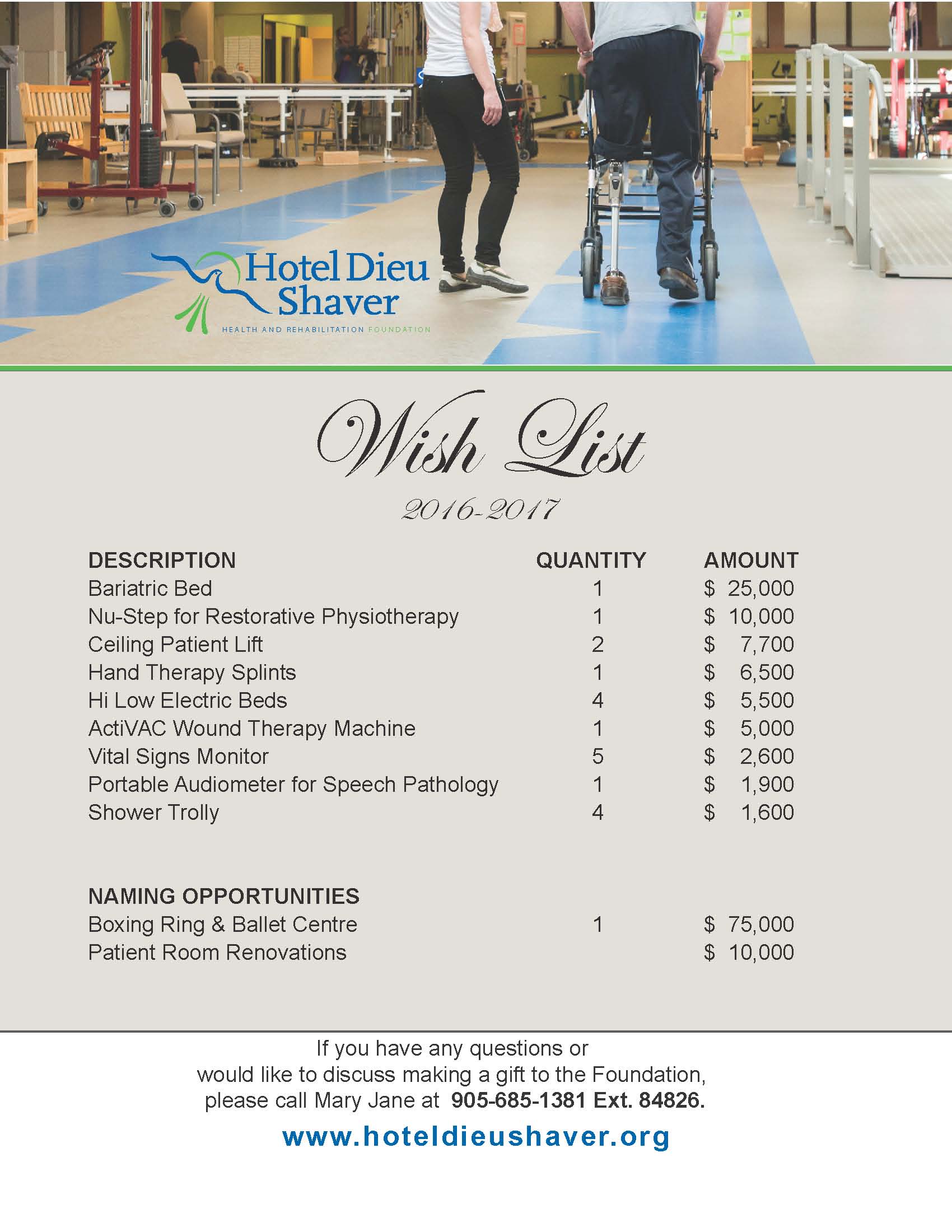 ---

2016-2017 Board of Directors
Norma Medulun Burke, Chair 
Aurora Di Fruscia, Treasurer 
Darren Anger, Vice Chair
Teresa Bin, Secretary
Darren Anger
Bob Bell
Michael Bruce
Kurt de Vries
Dianne Henderson
Mike Hoogasian 
Rod Mawhood
Rena McDonald
Jansin Ozkur
Mario Prudente
Rick Vaive 
---