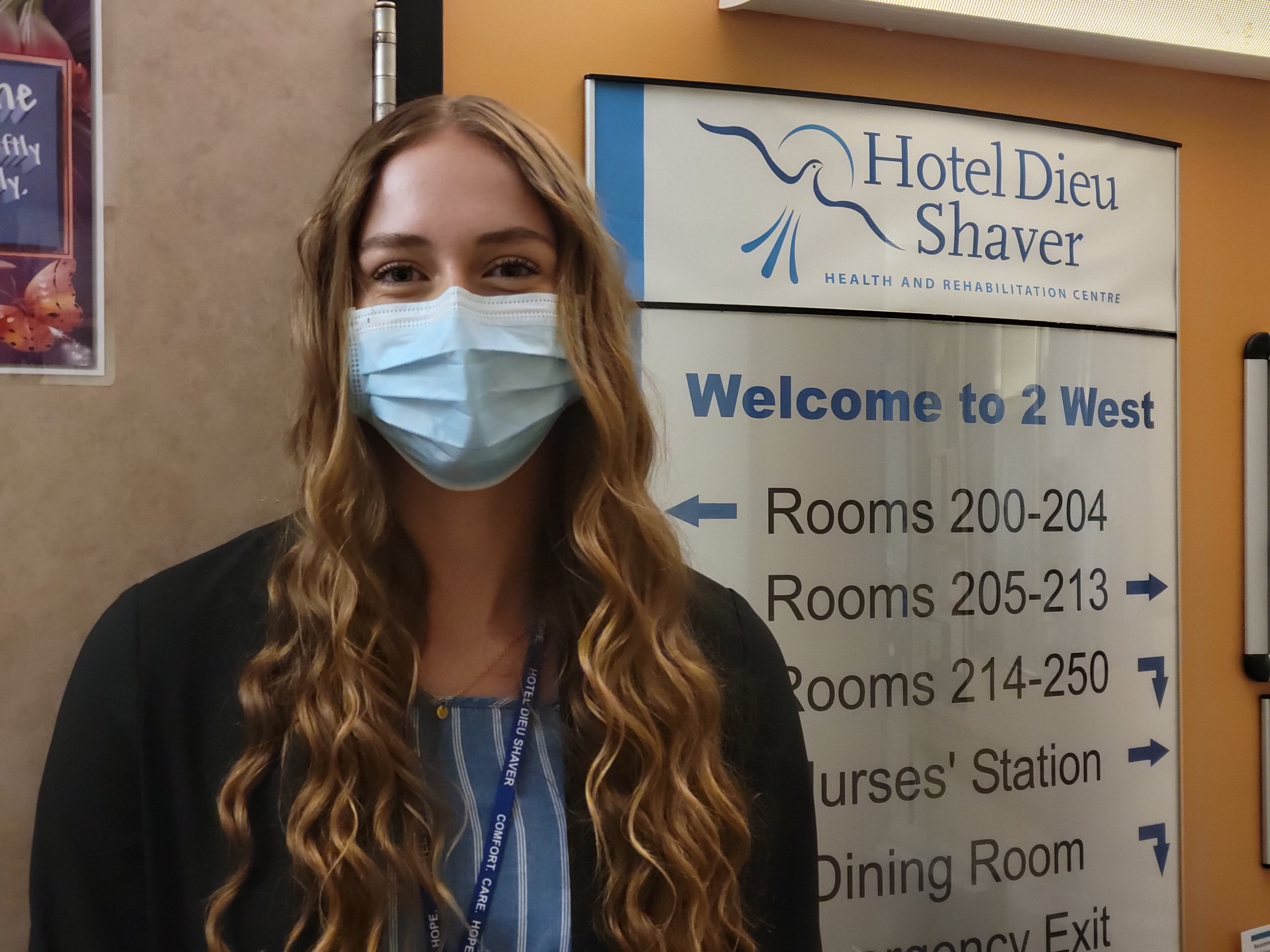 Meet Grace!

Grace is a Master's student at Brock University, working towards a Master's degree in Applied Gerontology. As a Registered Nurse (RN), she has been working under the supervision of Hotel Dieu Shaver's Chief Nursing Officer, Jennifer Hansen, for the last several weeks, completing a Palliative Care research project.

Born and raised in Thorold, she always new she wanted to work in medicine. Grace recalls, "my mom is a nurse, which gave me great insight into the profession." "In the beginning I dreamt of being just like her, but as I progressed through my degree, I have also found my own passions in nursing and caring for older adults."

Grace is currently engaging in research about culturally appropriate palliative care and creating a resource for Hotel Dieu Shaver's Palliative Care unit. "The hope for this project is to develop a guide for the staff on the unit, that can be utilized to inform palliative care of patients with various cultural backgrounds and support their wishes through culturally appropriate care."

As she completes her research project and works among the nursing staff at HDS, Grace hopes to gain knowledge about palliative care practices and specific ways in which healthcare staff can facilitate the end-of-life wishes of differing cultures. "I am also extremely excited to learn from my supervisor and other staff about their roles in the hospital setting," says Grace. "As a new RN I am always looking to learn and take advice from those with vast amounts of experience in the field."

Grace's biggest hobby is volleyball, currently a member of Brock University's Women's Varsity Volleyball team. Her favourite thing to do in Niagara is to visit Burgoyne Woods, bringing a picnic lunch or walking throughout the park. "My grandparents and parents took me there often as a child and it brings me many happy memories," recalls Grace.

Upon completion of her Master's degree, Grace sees herself working as an RN in the field of Gerontological Care, likely with a focus in Palliative Care. What comes next for her is still undecided, but she is excited to see what direction nursing will take her, as she continues to learn with an open mind.