Specialty Outpatient Programs
Specialty Outpatient Programs at Hotel Dieu Shaver cover a range of services, including an Adult Seating, Ambulatory Rehab, and Geriatric Rehab.
---
Adult Seating Clinic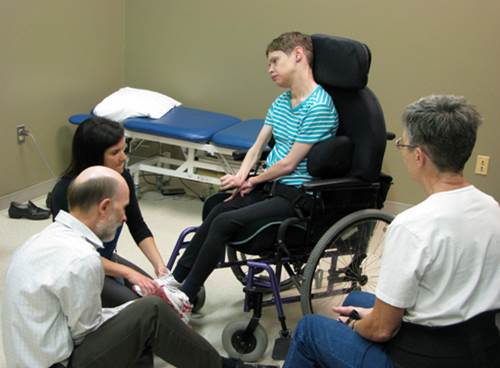 Customized seating solutions are required by many individuals throughout the Niagara Region who are living with complex physical disabilities. Seating plays a critical role in maintaining an individual's positioning, which in turn maintains a person's health (e.g., skin integrity, respiratory health, and physical mobility). The Adult Seating Clinic provides specialized, interprofessional rehabilitation expertise, helping patients to be mobile, engage in daily living, and optimize their quality of life.
---
Ambulatory Rehab Program
(located at Niagara College, Welland Campus)
In collaboration with Niagara Region, Niagara College, March of Dimes Canada, Community Care Access Centre (CCAC) and the Niagara Health System (NHS), our purpose is to support older adults recently discharged from hospital or at risk for hospitalization.  Our goal is to promote optimal mobility, function and independence.   More information can be found here
---
Memory Clinic

The Memory Clinic is a specialty clinic dedicated to helping patients with memory difficulties.  An interdisciplinary team will assess and provide recommendations on many aspects of memory function.  Hotel Dieu Shaver's goal is to help patients with memory difficulties maintain independent living and best quality of life for as long as possible.
---
Ontario Telemedicine Network (OTN)
Telemedicine uses telecommunications technology to provide clinical health care in Ontario at a distance.  This helps improve access to medical services that often would not be available consistently in distant rural communities.  Patients that use our services at HDS do not have to travel to their appointments in Toronto and elsewhere, they see their physician/consultant in real time on camera.
*OTN is used for specific programs on an as needed basis*