The Hotel Dieu Shaver Team
At Hotel Dieu Shaver, the quality of our patient care is the result of extraordinary teamwork among our staff, leadership, & Board of Trustees – all working together to achieve common goals in accordance with our Mission & Values.
---
Board of Trustees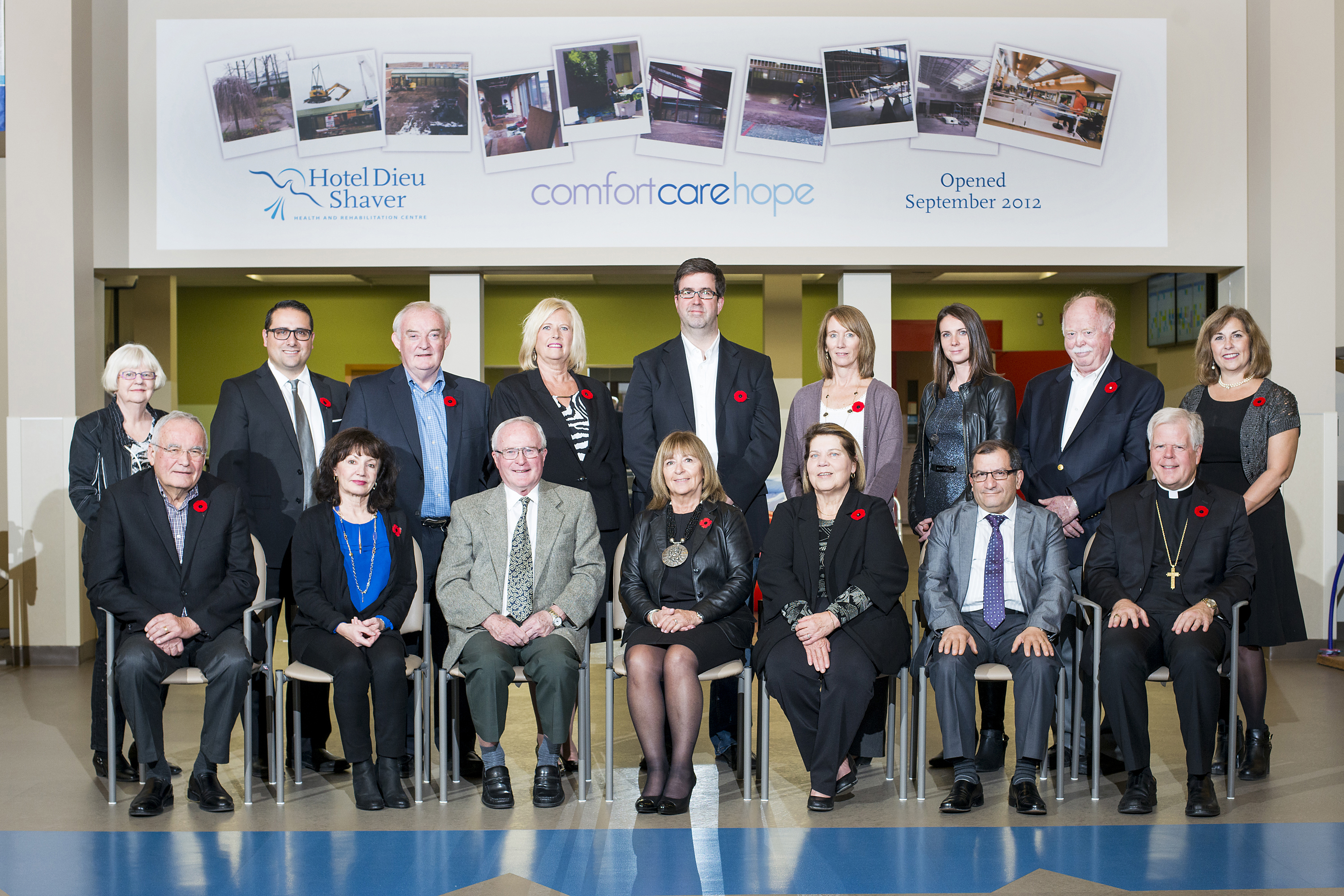 Back Row From Left | Jean Armitage, David Ceglie (Senior Staff), Norma Medulun Burke (Foundation Chair), Larry Anderson, Christine Wignall (Executive Assistant), Mary Jane Johnson (Senior Staff), Dr. Jack Luce (Chief of Staff), Jennifer Hansen (Senior Staff).
Front Row from Left | Frank Bagatto, Lynne Pay (Senior Staff, Dr. Ron McTavish (Board Chair), Jane Rufrano (CEO), Anne Atkinson, Dr. Raymond Harb, Bishop Gerard Bergie. 
Absent From Photo | Gregory Darte, John Pennachetti, Jackie Phalen.
---
Leadership
Jane Rufrano | Chief Executive Officer/Chief Financial Officer | email
David Ceglie | V.P. Clinical Services | email
Lynne Pay | V.P. Corporate Services | email
Dr. Jack Luce | Chief of Staff | email
Sister Louise Dillon | Director, Mission & Pastoral Services | email
Mary Jane Johnson | Director, Communications | email
Jennifer Hansen | Chief Nursing Officer/Director of Nursing | email
Managers
Shawn Bolger | Manager, Housekeeping | email 
Janice Latam | Director, Health Data and Quality Improvement| email
Mike Gualtieri | Director, Environmental Services| email
Scott Harris | Director of Rehabilitation| email
Catherine MacDougall-Chiarelli | Manager, Nursing | email
Julie Marrone | Director, Finance| email
Elizabeth Pearson | Manager, Infection Prevention & Control| email
Chris Pollard | Manager, Physiotherapy | email
Fred Radunsky | Director, Human Resources| email
Alyssa Sewell | Manager, Food Services| email
Staff
The staff at Hotel Dieu Shaver is a dedicated, compassionate, and talented team. From housekeepers to nurses, from physicians to pharmacists, and from therapists, maintenance workers, and all other team members, the patients are the number one priority.

Departments at Hotel Dieu Shaver Health and Rehabilitation Centre
Admitting and Switchboard
Audiology and Hearing Aid Clinic
Augmentative and Alternative Communication Clinic
Environmental / Maintenance Services
Finance and Payroll
Food Services and Clinical Nutrition
Health Records
Hospitality Services
Human Resources
Rehab & Wellness Centre
Neurology
Nursing
Occupational Health and Safety
Occupational Therapy
Pastoral Care
Pharmacy
Physiotherapy
Radiology
Social Work
Speech Language Pathology
Therapeutic Recreation
 
We look forward to meeting you and caring for your loved ones!