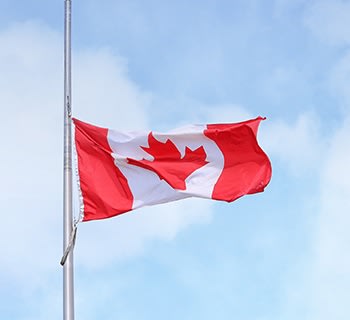 The Government of Canada has designated March 11th as a National Day of Observance to commemorate the people who have lost their lives and the significant impacts we have all felt because of COVID-19.

On March 11th, one year after the first known death of a Canadian to this horrible disease, Canada now mourns the loss of more than 22,000 parents, siblings, friends and loved ones. It was only one year ago that our lives would be forever changed.

We have felt the significant impact of COVID-19 across the world, across Canada, across Niagara and more intimately, throughout our own Hospital. Over 864,000 Canadians have been infected by COVID-19 and we can whole-heartedly relate to the immeasurable impact this disease has had on every, single, one of us – personally and professionally.

Today we join our nation by lowering our flag to half-mast as we honour the memory of those we have lost, recognize those who have been significantly impacted and pay tribute to our staff, physicians and all those who continue to battle on the frontlines of this pandemic. Our flag will remain lowered until Sunday, March 14th as part of Niagara's region-wide acknowledgement of these significant impacts. HDS will also commemorate with a reflection at 11:00 a.m.

It has been a long and challenging year, and although we may still have far to go, it is important to remember how far we have come. Together, we will beat COVID-19.