May 1st is Doctors' Day.

Doctors' Day is celebrated across Ontario each year on May 1st to recognize the province's doctors and their commitment to improving the health of all patients. May 1st was chosen to mark the birthday of Dr. Emily Stowe, the first woman to practice medicine in Canada and a founder of the country's women's' movement.
 
In celebration of Doctors' Day, Hotel Dieu Shaver is extending heartfelt appreciation and gratitude to all of our physicians, as they continue to lead our hospital through these restless times. Still, entering the second year of the COVID-19 pandemic, our physicians continue to show unwavering dedication, commitment and compassion by always providing the highest level of care to our patients.

"It gives me great pleasure to acknowledge this special day, a day to recognize the important contributions physicians make to our healthcare system," says Anne Atkinson, Hotel Dieu Shaver Board Chair. "Our physicians have been challenged immensely this past year. Their dedication to excellence and compassion are the very essence of HDS – providing the best care possible with dignity and respect for all. Thank you so much for your leadership, your voice and your presence in our lives."

"Hotel Dieu Shaver is sincerely grateful to be led by an inspiring and exceptional team of physicians," says Lynne Pay, Chief Executive Officer. "To our physicians - thank you for dedicating your professional life to healing and caring, and for choosing to commit your skill and talents to our patients at HDS.   Your work reflects HDS' Mission and Values every day. You continuously lead our patient's healthcare journey and even through the toughest of times, you manage to do so with the greatest care and compassion."

On behalf of all of us at HDS, thank you to our physicians – current and retired. Your service to our community is most appreciated and especially on this day, we pay tribute you!
---
On Saturday, May 1st at 9:00 p.m., the Ontario Medical Association is inviting all Ontarians to come together from a distance to recognize our doctors. Turn on your phone flashlight and hold it high, from wherever you are, and shine a light for all that our doctors do.
Also, Niagara Falls will be illuminated blue from 10:00 to 10:15 p.m. in honour of Doctors' Day. You can view the illumination safely from your home here.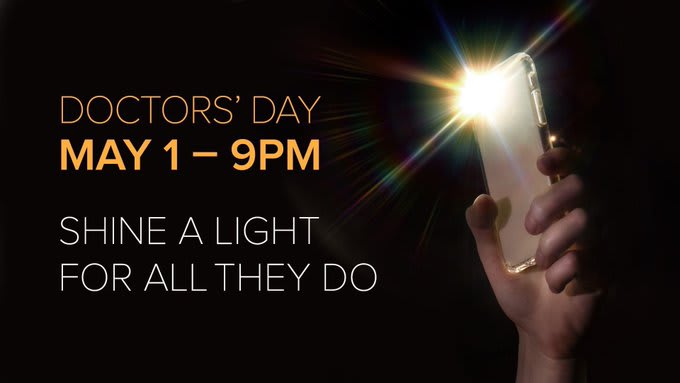 ---
RHSJ Physician Excellence Award

Focusing on the Mission, Vision and Values of Hotel Dieu Shaver and continuing the healing mission of the Religious Hospitallers of St. Joseph, the annual RHSJ Physician Excellence Award honours an HDS physician who demonstrates in his or her clinical practice the core concepts of Person and Family Centred Care, including dignity and respect, information sharing, participation and collaboration. The HDS 2021 RHSJ Physician Excellence recipient will be announced on Monday, May 3rd.