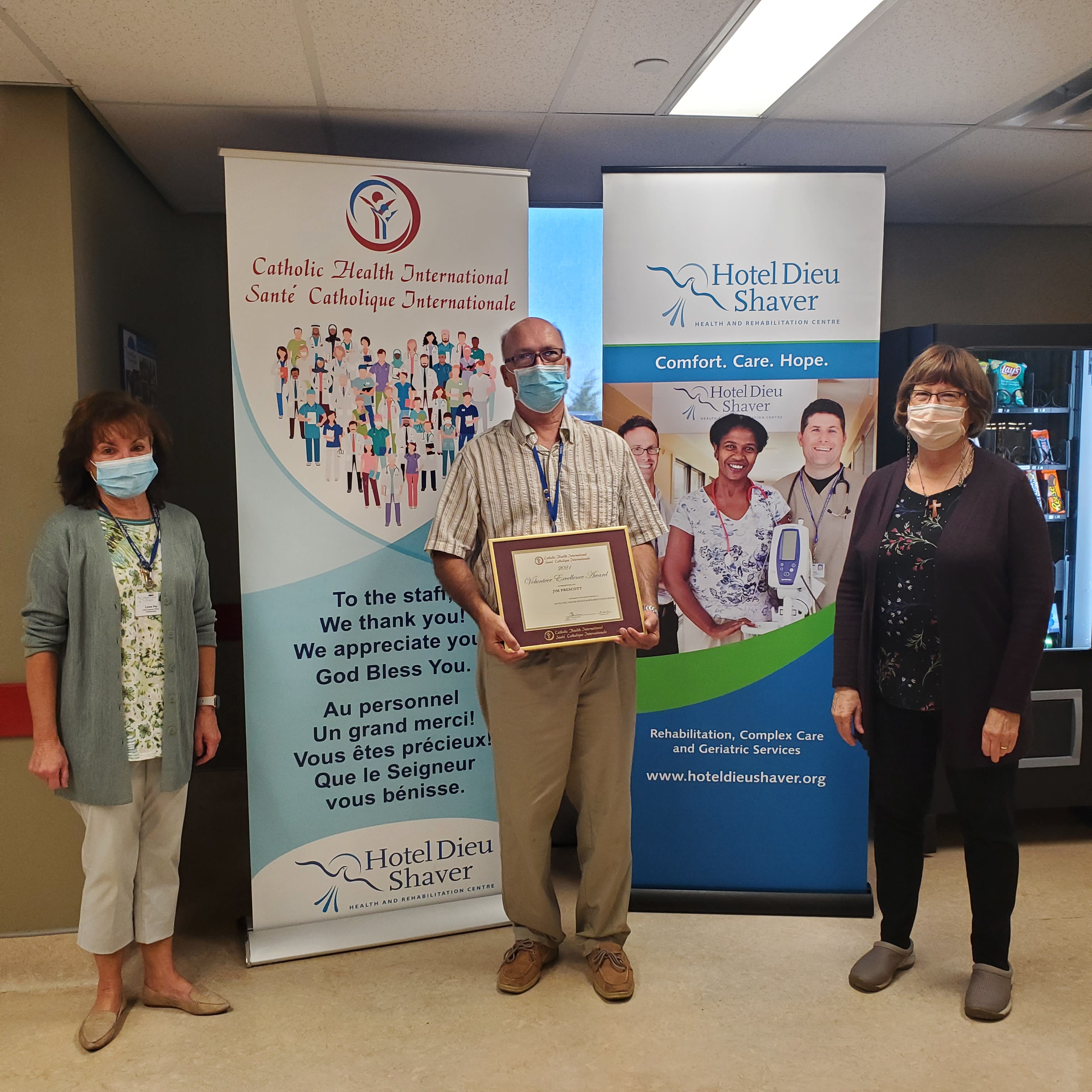 Each year Catholic Health International (CHI) recognizes the tremendous dedication of our volunteers through their Annual Volunteer Recognition Awards. As Hotel Dieu Shaver's sponsor, CHI is committed to promoting the healing mission of Jesus and assures that services support the mission and values of Catholic Health Care.
This annual award is presented during Catholic Healthcare Week during the month of October and celebrates those who have demonstrated a commitment to volunteerism. A volunteer's gift of time is incredibly invaluable to our staff, patients, and patients' loved ones.
Among nomination criteria, an individual must demonstrate the spirit of volunteerism, reflect the organizations mission and values, promote the facility and empower and educate others to volunteer. This year's recipient embodies each of these attributes wholeheartedly, embracing and overachieving his role as a volunteer at Hotel Dieu Shaver.
Congratulations to Jim Prescott, Patient and Family Advisor, for this outstanding achievement! It brings us great pleasure to award Jim as this year's CHI Volunteer of the Year.
Jim assists Hotel Dieu Shaver and Hotel Dieu Shaver Foundation in a variety of capacities and we are incredibly grateful for his contributions to the Hospital. Jim has been a gracious Patient and Family Advisor at Hotel Dieu Shaver since 2016 and most recently named a provincial representative on the Quality Unit of Ontario providing a strong voice for rehabilitation and complex care.

Throughout the COVID-19 pandemic, when visitation and volunteering inside the hospital was restricted, Jim began assisting HDS Foundation with their battery recycling program, traveling to various locations in Niagara to ensure the bins were in optimal condition. Jim also continues to leave a lasting impression on our Regional Stroke Rehabilitation program. As a past patient, he is a member of Survivors of Stroke inspiring past stroke patients through their recovery, even recording radio ads with 610 CKTB to bring awareness to our renowned program!

Jim wears many hats at Hotel Dieu Shaver and never turns down an opportunity to help when he can and for that, we are forever grateful.

Please join us in congratulating Jim for this outstanding achievement!