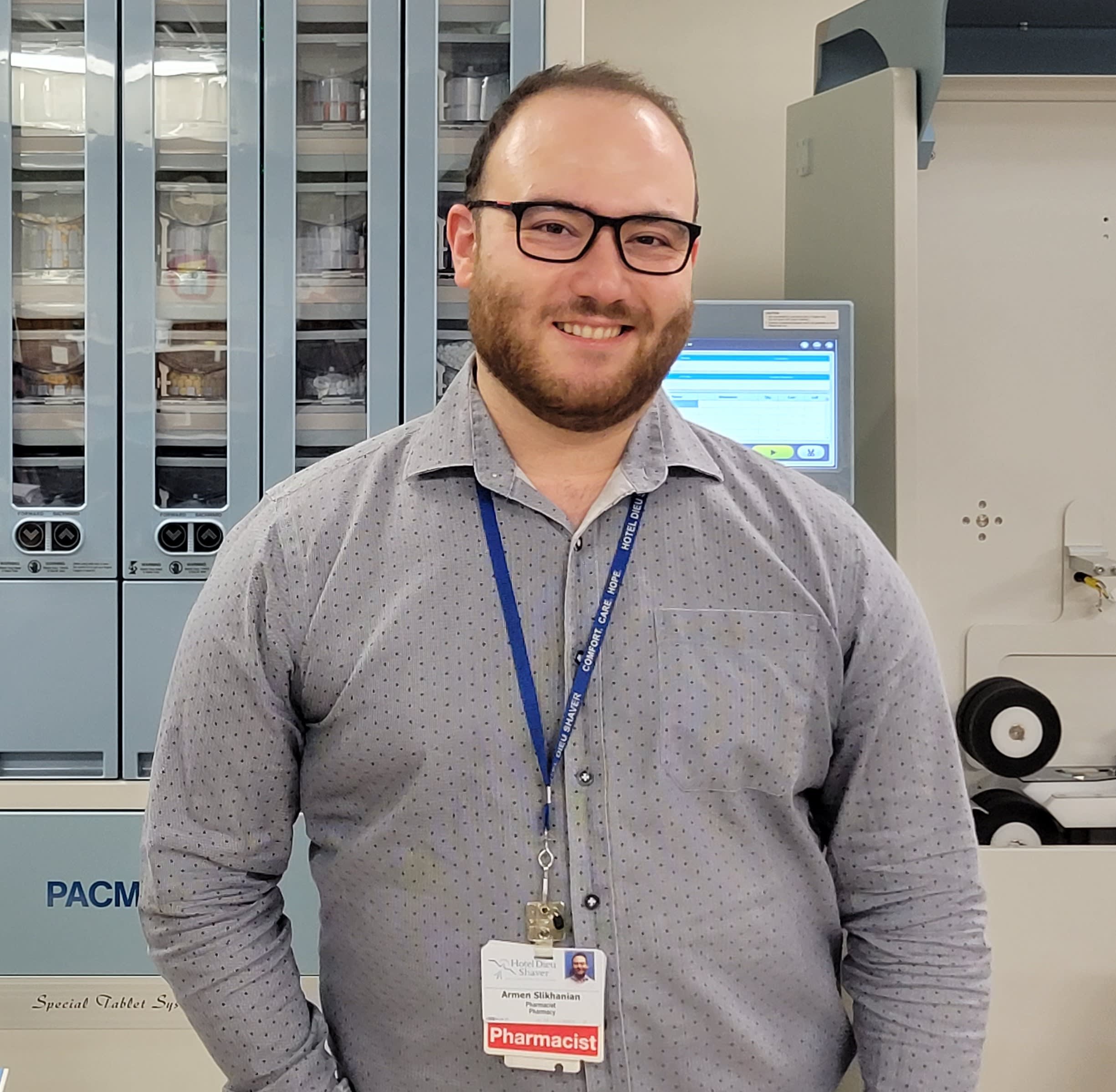 Armen is a dedicated pharmacist at HDS, and has been for over 3 years. He came to HDS first as a pharmacy student, then as a pharmacy intern, and finally as a pharmacist.

Growing up, Armen has always been drawn to healthcare, asking questions whenever he had the opportunity to do so, particularly while visiting a pharmacy, doctor or dentist.

"I was inspired by the local pharmacist in my hometown who really became an incredibly trustworthy household name," recalls Armen. "He knew everyone by name and their medical history."

In 2013, Armen happened across an internship opportunity at a children's hospital pharmacy in Armenia, which taught him a lot about the life-saving role pharmacists can play within an interprofessional setting. It was in this moment that Armen choose to pursue a career in hospital pharmacy - and we are so glad that he did!

Armen has found much reward in his job, as medication non-adherence, errors, and adverse events are some of the most common reasons for hospital admission, especially among the elderly. He is motivated by seeing just how many adverse outcomes are prevented by regularly reviewing patients' medications and optimizing their regimen. "This is especially true for patients with multiple prescribers and comorbidities who might struggle with health literacy," says Armen.

Pharmacists and pharmacy technicians do so much more than just dispensing medications. They ensure medications are used safely, collect and reconcile medication histories to make sure patients are getting the right medications and prepare and dose high-risk medications such as Warfarin, Vancomycin and chemotherapy in many hospital settings.

As a pharmacist, Armen is part of an interprofessional team at HDS and plays a vital role in assisting patients meet their rehabilitation goals by answering questions about dosing, side effects, and interactions, as well as making sure medications are ordered and dosed appropriately via regular therapeutic monitoring to identify and resolve potential barriers to discharge and quality of life. "This would be impossible without the help of our pharmacy technicians who are integral to the functioning of the department," says Armen.

When asked what advice Armen would give someone going into his line of work he explains: "Don't limit yourself to any one type of pharmacy setting, try to get experience in as many settings as possible. "Keep in mind there are opportunities for pharmacy professionals in retail, hospital, industry, research, insurance, and education settings and you never know which one will be your best fit! Keep advocating for yourself and for the best health interests of your patients, despite potential resistance you may face. Be collaborative – we all have an incredibly important role to play in healthcare and you can learn a great deal from other healthcare professionals too."

Armen encourages anyone in hospital, or someone with a loved one in hospital, who is taking medications, to always carry a current medication list and never hesitate to ask questions! "It is so important to know why you are taking your medications and what medications you take by name, not just that it's the 'small round white pill'," explains Armen. "Pharmacists study medications for many years and are happy to help with this."

When not working as a pharmacist, Armen enjoys playing classical piano, eating sushi and travelling whenever possible. His particular interests include Scandinavian history and linguistics. As a psychology undergrad, one of his main interests within pharmacy is mental health/psychopharmacology.

Armen has family spread out all over the world, who come together annually at a different international destination once a year. This has been on hold for obvious reasons these past few years and it is his hope that his family will be able to reunite in Armenia this year.

Thank you for all your do for our patients, and our team at HDS, Armen!