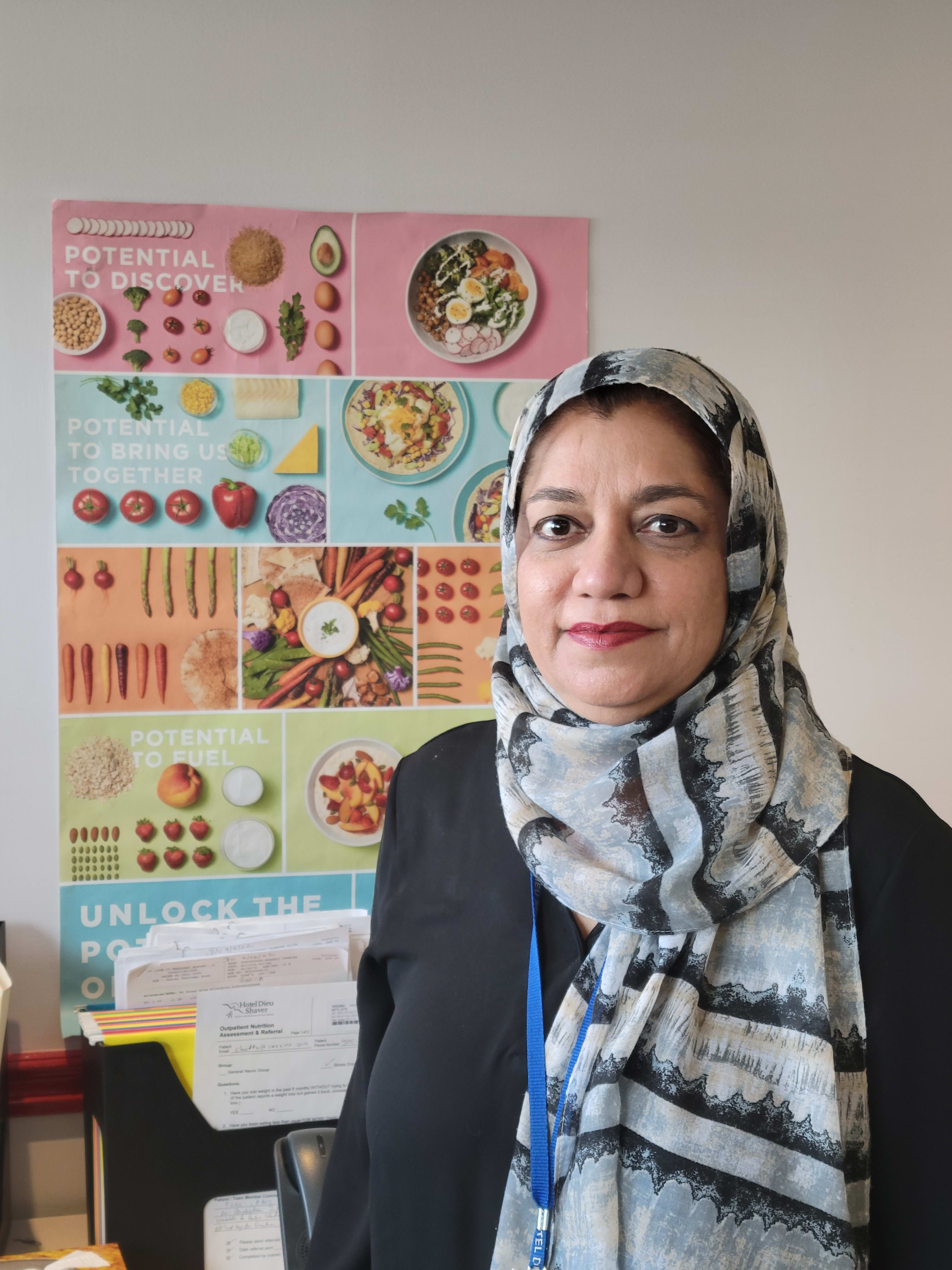 Meet Deneize – one of Hotel Dieu Shaver's trusted Clinical Dietitian's in our department of Clinical Nutrition. Deneize's association with HDS began in January 2016 with a clinical placement, where she later joined the clinical nutrition team in October 2016.
Deneize's fascination for nutrition and dietetics began one summer, while she was visiting her aunt in the United States. Her aunt was a registered dietitian and it amazed Deneize to see how dietitians used the power of food to help people stay healthy and prevent chronic diseases, as well as manage different health conditions.
"Health and fitness was always given importance in our home and at that time there were very few dietitians in my home country," recalls Deneize. "My aunt's career inspired me to help people have a healthy relationship with food and empower them to improve their health."
Deneize finds reward in her role as a dietitian when she is successful in empowering patients with the appropriate tools to make informed choices that enhance their health and improve management of their current medical conditions.
When speaking with Deneize, she explains that there can be common misconceptions when it comes to the field of dietetics, like assuming that dietitians work mainly in hospitals. The field of dietetics has expanded beyond hospitals and outpatient clinics and today - dietitians are everywhere! Dietitians are working in the food industry, grocery stores, government and media informing public policy, conducting nutrition research and running independent businesses. The involvement and influence of dietitians continues to grow.
It is important for dietitians to work in partnership with the patient and individualize nutrition care plans to meet the unique needs of a patient. "Food habits are life long behaviors and cannot change overnight," explains Deneize. "Learn to listen to your patient. Support and empower the patient with knowledge, skill and strategies to take control of their own health journey."
A nutritional tip from Deneize:
There are many ways to eat healthy, but the Mediterranean eating pattern has an enormous amount of research with positive outcomes on a variety of health conditions, like cardiovascular protection, diabetes prevention and delaying dementia. Key dietary components of the Mediterranean Diet are:
Omega-3 fish, extra-virgin olive oil, nuts, seeds
Food high in fiber (vegetables and fruits, whole grain breads, pasta and beans, peas, lentils)
Cook from scratch and limit processed foods
When Deneize is not empowering her patients, she is traveling around the world and exploring new places. She enjoys spending her time walking along the lake, hiking during the summer time and most of all, spending time with her granddaughter, Sophia.

She looks forward each year to celebrating her favourite religious holiday and family tradition, Eid, where all of her family and friends get together to celebrate. You can also find Deneize at one of her favourite restaurants in Hamilton, Barangas on the Beach. With one of the largest lake front patios and a beautiful ambiance and view, she is in her glory!

Thank you Deneize for providing compassionate care to our patients and empowering them to be their healthiest selves!