On Wednesday, May 4, after a very short, but hard fought battle, Dr. Jack Luce, Chief of Staff, passed away peacefully at Hotel Dieu Shaver. Our Hotel Dieu Shaver family suffered an incredible loss, a loss we are still feeling very deeply and will continue to feel, indefinitely.  Not a day goes by that his presence is not sorely and deeply missed by each of us at HDS. 
---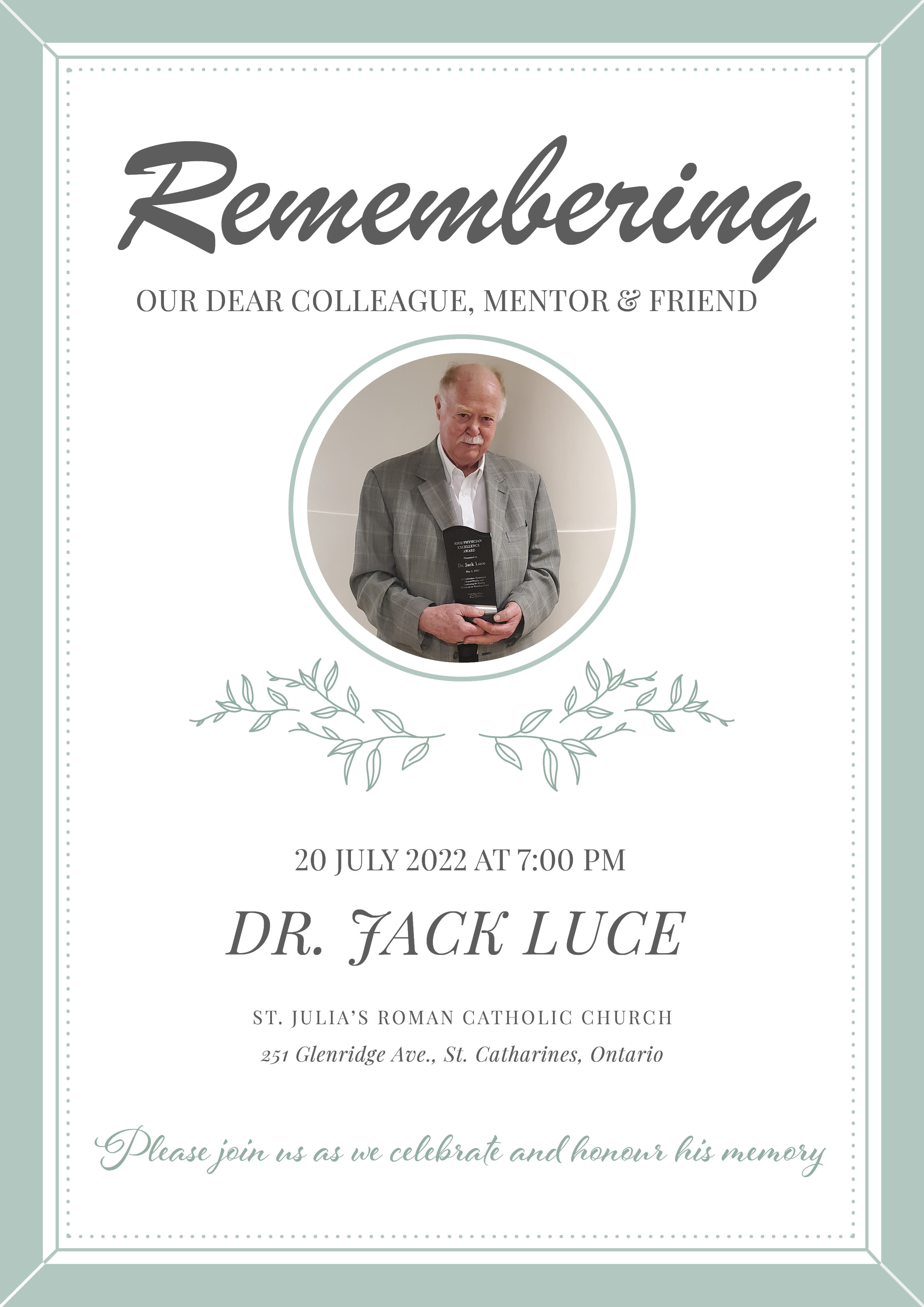 If you are unable to attend the memorial mass for Dr. Luce in person, you can join us via livestream here.
---
For as long as he lived, Dr. Luce dedicated himself and his life to helping and caring for others. After serving his country in the Canadian forces, Dr. Luce turned his attention to the practice of medicine and found himself in St. Catharines where he became a member of Hotel Dieu's medical staff in 1972.
Trained in family and emergency medicine, Dr. Luce always had a passion for caring for seniors. He became Chief of Staff at Hotel Dieu Hospital on Ontario Street, helping lead the acute care facility through numerous changes that included clinical expansions, a clinical teaching program and the establishment of a dialysis center and oncology program.

As if being Chief of Staff at Hotel Dieu did not keep him busy enough, he maintained his own family practice, as well as continuing to care for nursing home patients, often making rounds before and after his "nine to five" job at the office and the hospital. While maintaining a strong interest and advocacy role, it was not until Dr. Luce, as a result of local hospital restructuring, continued as Chief of Staff at Hotel Dieu Shaver, that he was able to become fully immersed in his passion for geriatric care.

Dr. Luce was the most kind and generous person. He cared deeply for each of his patients at Hotel Dieu Shaver, within his family practice and at Tufford Retirement Home, but he also cared for his colleagues. He took the time to listen to all of us, to hear about our families and follow up with how things were going, he remembered everyone's name and circumstances and always put any crisis in a better light and perspective.  We heard stories of his weekly sojourns with his beloved wife Wendy and the pride in his voice when he spoke of his son, Patrick, his daughter Jacquelyne, his stepson Joel, and both of his granddaughters.
Dr. Luce was and always will be the heart and soul of this organization, living out Hotel Dieu Shaver's mission in every aspect of his work. All of us lost much more than our Chief of Staff - we lost a dear friend, an esteemed colleague and an absolute wonderful person.

Dr. Luce will be missed by each and every one of us at Hotel Dieu Shaver, but we know that his memory, legacy and strength will remain strong within the walls of our hospital and his steadfast example of kindness, wisdom and compassion will guide all of us in the decisions that we make.
---
---
This August, Dr. Luce would would have celebrated 50 years of service at Hotel Dieu Shaver's annual Employee Recognition Event, as well as 30 years as Chief of Staff. 
---