Focusing on the Mission, Vision and Values of Hotel Dieu Shaver and continuing the healing mission of the Religious Hospitallers of St. Joseph (RHSJ), the annual RHSJ Physician Excellence Award honours an HDS physician who demonstrates in his or her clinical practice the core concepts of Person and Family Centered Care, including dignity and respect, information sharing, participation and collaboration.
This year, at the Physician Excellence Award Presentation for Doctors' Day, we were pleased to announce the recipient of HDS' 2023 RHSJ Physician Excellence Award. We extend congratulations to all nominees and are pleased to share that this year's recipient is Dr. Cristina Batey.
Congratulations Dr. Cristina Batey who is most deserving of this award and recognition!
---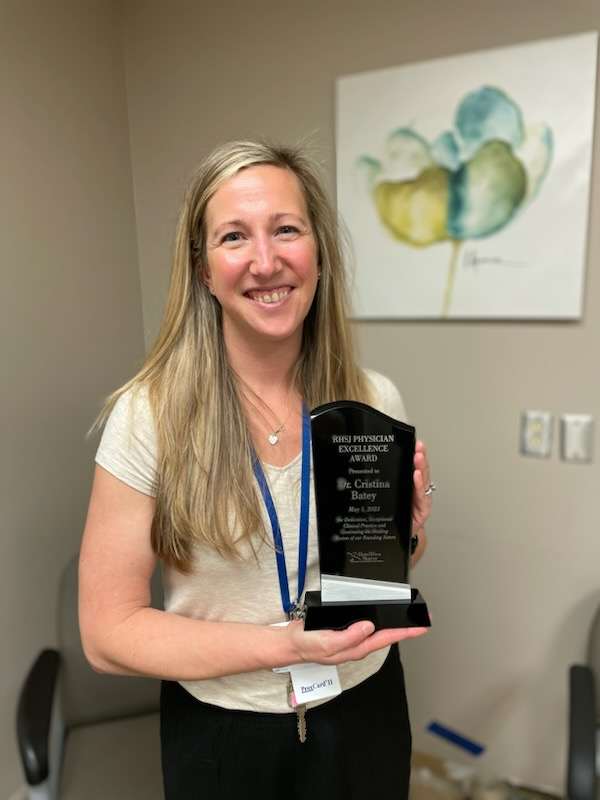 Dr. Batey graduated from the University of Saskatchewan's College of Medicine in 2013, and completed her Physical Medicine and Rehabilitation Residency from Western University in 2019. Dr. Batey has held staff privileges at HDS since the completion of her residency, providing physiatry consultations for HDS' inpatients and amputees, as well as EMG and nerve injury assessments. We are incredibly grateful for her presence and her service at HDS.
Here are a few things that staff have to say about Dr. Batey:
Dr. Batey always remains calm and patient, even when the most difficult behaviours are present with a patient
I feel like I can approach her and ask her anything, you never feel like you are bothering her
She is constantly impressing the staff as being remarkably proficient and reliable
She often offers insights at clinical rounds that inform and alter the direction of the patient care significantly, resulting in superior outcomes
When speaking to patients, she speaks in Layman's terms to make sure the patient and family understands
Working with Dr. Batey is a privilege. Her knowledge, patience and kindness as a physician is so appreciated
She is a valuable part of the team and her professionalism and demeanor at work are entirely consistent with the mission and values of HDS
---
Please join us in congratulating both Dr. Cristina Batey for this outstanding achievement!