As the only rehabilitation hospital in Niagara, Hotel Dieu Shaver provides all inpatient and outpatient rehabilitation services to those residing throughout the Niagara Region, including all communities spanning from Fort Erie to Grimsby.  Hotel Dieu Shaver prides itself on providing a delivery system worthy of our patients' and families' trust, coupled with our dedication to ensure those living in our communities will have access to the programs and services that will optimize their recovery and quality of life.
On February 8, 2019 after 11 years of identified need, the Province of Ontario announced a $500,000 planning grant to allow Hotel Dieu Shaver to plan for an expansion of rehabilitation beds in Niagara.  The planning grant was a response to the need to address the significant challenges Hotel Dieu Shaver faces with its current outdated infrastructure and its desire to best meet the growing demands for rehabilitation in the Niagara Region. The proposed expansion of rehabilitation services will enhance the government's commitment to reduce hallway medicine and provide a seamless continuum of care as patients are better able to transition home and back into the community.
In the Summer of 2021, we worked closely with the Project Lead and with the Capital Branch of the Ministry of Health and successfully submitted our Stage 1A and 1B documentation and in August of 2023 approval from the Ministry was given, with a $2.5 million capital grant, to proceed into Stage 2 of the Capital Build process. Read the announcement here.
As Niagara's only specialty rehabilitation hospital and being located in Canada's third oldest age demographic we require more rehabilitation beds. The COVID-19 pandemic has drawn further attention to the lack of space within our inpatient facility, creating huge challenges for our Infection Prevention and Control measures, particularly given the lack of private rooms and high number of three and four bed wards.

Hotel Dieu Shaver is well-positioned with the skill, expertise and interdisciplinary team to provide rehabilitation to patients with musculoskeletal, neurological, cardiac, functional, cognitive and respiratory challenges in our Niagara community – we just need more beds.
---
CLICK HERE for more information on Hotel Dieu Shaver's Capital Expansion Proposal to the Ministry of Health and Long Term Care.
---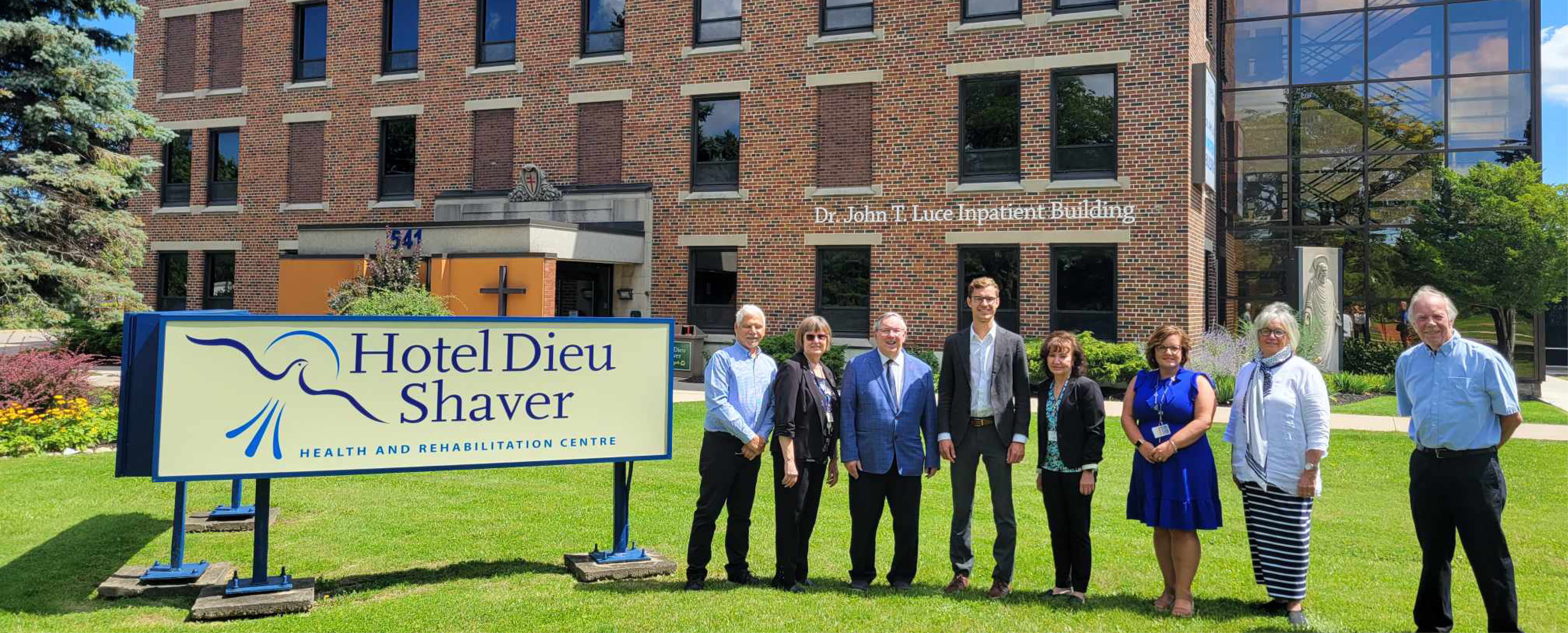 MPP Sam Oosterhoff and Regional Chair Jim Bradley deliver the news that as part of Your Health: A Plan for Connected and Convenient Care, the Ontario government is providing a one-time capital grant of up to $2,500,000 to support costs associated with early planning for the proposed Rehabilitation Bed Expansion Project at Hotel Dieu Shaver Health and Rehabilitation Centre in St. Catharines. 
Photo Caption (From Left to Right): Rick Mauro, Board Chair, Hotel Dieu Shaver Foundation; Sister Louise Dillon, Director of Mission and Pastoral Services, Hotel Dieu Shaver; Jim Bradley, Chair, Regional Municipality of Niagara; Sam Oosterhoff, MPP Niagara West; Lynne Pay, Chief Executive Officer, Hotel Dieu Shaver; Tracy Geoffroy, Executive Director, Hotel Dieu Shaver Foundation; Betty-Lou Souter, Trustee, Hotel Dieu Shaver; Bob Lawler, Trustee, Hotel Dieu Shaver
Have A Question?
Do you have a question or want to leave a comment about the plan to build additional beds at Hotel Dieu Shaver? Please submit it below and we'll respond via e-mail.
We welcome your feedback as we continue to work with the community on planning for the future of rehabilitation in Niagara.