Novel Coronavirus (COVID-19)
This page is updated regularly. Please check back for additions.
Hotel Dieu Shaver (HDS) continues to be a safe place to receive care, and we continue to take extra precautions as part of our COVID-19 prevention measures. 
---
Temporary Free Parking
At HDS, we recognize the financial strain the COVID-19 pandemic has placed on families in our community. To mitigate this financial impact, there will be free parking at HDS for staff, physicians and those visitors who are allowed in the building under exceptional circumstances. Free parking will also increase safety at HDS during these uncertain times.
---
No Longer Accepting Visitors
HDS will no longer be accepting visitors, except for palliative patients or in extraordinary circumstances as pre-approved by the Clinical Manager.
We understand these are difficult decisions; however, this is a necessary measure to protect the health and well-being of our patients and team members, reduce traffic in and out of the hospital and practice social distancing.
To support the ability of patients to keep in contact with their loved ones, HDS will provide all patients with free WiFi for mobile device connectivity. 
---
Further Suspensions & Closures
To protect health and strengthen safety, until further notice, we are cancelling the service we receive from the following individuals:
Patient Advisors

Students (work placements or volunteers)

Volunteers and Auxilians

Due to reliance upon volunteers, the Gift Shop will be closed until further notice.

The "Dieu Drop In" Cafe will only be open from 11:15am – 2:30pm from Monday to Friday only. Items will be available for take-away only.
---
Temporary Suspension of Non-Urgent Ambulatory Rehabilitation Programs
As of Wednesday, March 18, 2020, Hotel Dieu Shaver is temporarily suspending non-urgent ambulatory rehabilitation programs as part of the COVID-19 pandemic plan.

All patients will be contacted directly about the status of their rehabilitation program and will be contacted once again when the programs are reinstated.
Ambulatory rehab programs that will continue to operate at this time:
Medical Clinic South

Orthopedic Programs, Hand Therapy (for essential post-surgical care only)

Rehab & Wellness - WSIB Regional Evaluation Centre (exploring virtual assessment option)
Outpatient/ambulatory care programs temporarily suspended until further notice:

Adult Seating Clinic

Amputee Program

Audiology & Hearing Aid Clinic (supplies, minor repairs, remote support -- please call 905-685-1381 x85233)
Augmentative and Alternative Communication (supplies, repairs, remote support -- please call 905-685-1381 x85210)

E.M.G Clinic

General Neurology Rehabilitation Program

Incontinence Clinic (Satellite of St. Joseph's)

Medical Clinic North

Memory Clinic

Ontario Telehealth for Neuro Diseases

Orthopedic Programs (with the exception of essential post-surgical hand therapy care)

Steve Ludzik Centre for Parkinson's Rehab Program

Rankin Family Cancer Rehabilitation Program

Rehab & Wellness Centre Physiotherapy Services

South Niagara - Ambulatory Rehab Program (Partnership with March of Dimes and Niagara College)

Speech Language Pathology Program

Stroke Rehabilitation Program

Carpentry

Worship Services
---
Mandatory Screening
As of Monday, March 16 at noon, Hotel Dieu Shaver has applied various infection control measures.
Screening of all people entering the facility.

Body temperature readings of all people entering the facility.

Reducing access to two front entrances (inpatient and outpatient) to ensure thorough screening.

Suspending pet visitation.
---
Niagara Region Public Health
Website: https://www.niagararegion.ca/health/covid-19/default.aspx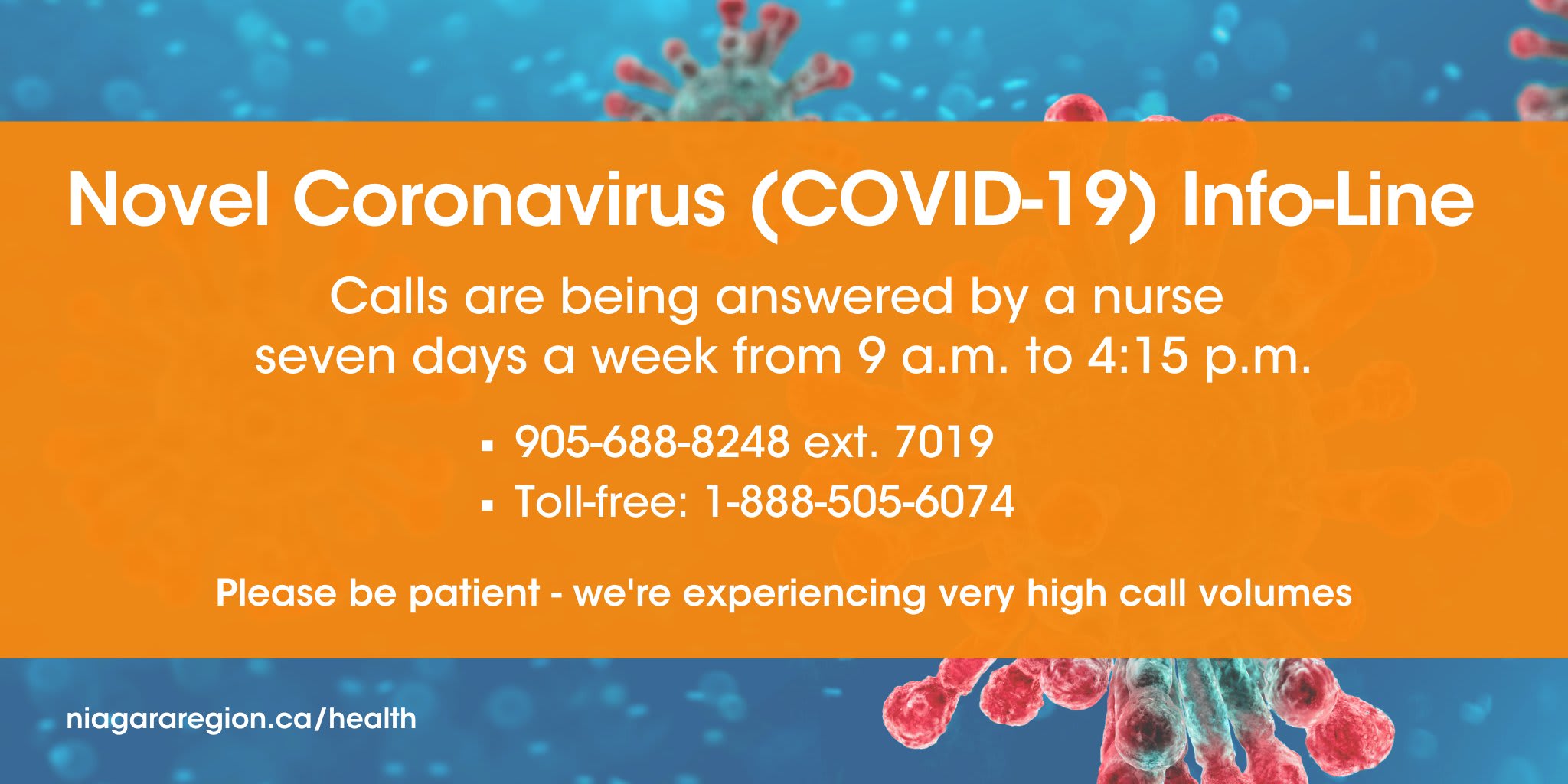 ---
Self-assessment
The Ontario Ministry of Health has created a new tool to help people self-assess for COVID-19. Unless you are experiencing an emergency, please use this tool before seeking medical help for possible COVID-19.

Self-assessment tool: https://www.ontario.ca/page/2019-novel-coronavirus-covid-19-self-assessment 

From the Ontario Ministry of Health's website:
If you think you have 2019 novel coronavirus (COVID-19) symptoms or have been in close contact with someone who has it, use this self-assessment to help determine if you need to seek further care.

If you are having difficulty breathing or experiencing other severe symptoms, call 911 immediately. Advise them of your symptoms and travel history.
---
Niagara Region Assessment Centers Now Open
The Assessment Centres are available by referral only from Niagara Region Public Health. People who suspect they may have a COVID-19 infection are being directed to contact them at 905-688-8248 ext. 7019 or toll-free at 1-888-505-6074. Assessments are by appointment only.
Allied Health Building (5673 North Street, Niagara Falls)
Niagara Health - St. Catharines site (1200 Fourth Ave, Niagara Falls)