Novel Coronavirus (COVID-19)
This page is updated regularly. Please check back to stay up to date.
Hotel Dieu Shaver (HDS) continues to be a safe place to receive care, and we continue to take extra precautions as part of our COVID-19 prevention measures. 
---
Effective Wednesday, November 18th, 2020
At this time, Hotel Dieu Shaver will be restricting visitors from red zones. Ontario Public Health outlines that people who live in the "control/red" zones should not travel from their homes except for essential needs, and HDS will be supporting that directive. Therefore, any visitors from these red zones will not be permitted to visit until their region's cases decrease and Ontario Public Health no longer considers them a high-risk zone.

Looking at the five levels/zones of public health measures, family members and friends from green, yellow and orange zones are still allowed to visit:
1. Prevent – visitors from green zones are allowed
2. Protect – visitors from yellow zones are allowed
3. Restrict – visitors from orange zones are allowed
4. Control – NOT allowed to visit
5. Lockdown – NOT allowed to visit

We understand the important role family and loved ones have in supporting our patients. In these times, it is necessary to protect the well-being of patients by limiting traffic in the hospital, especially those from high-risk regions, and by practicing social distancing. Your understanding is greatly appreciated. We will keep you updated on the status of this visitation change. We look forward to welcoming more visitors and families back as soon as it is safe to do so.

Further information about the Province's regional health measures and sector-specific public health and workplace safety measures may be found at: https://www.ontario.ca/page/covid-19-response-framework-keeping-ontario-safe-and-open 
---
Visitation Policy
Beginning on Monday, August 10th, 2020, Hotel Dieu Shaver Health and Rehabilitation Centre began the process of welcoming visitors back into the hospital. A measured and phased approach will be taken to ensure the health and safety of staff, patients and visitors.
As Hotel Dieu Shaver Health and Rehabilitation Centre begins to expand visitation, the hospital will begin with restricting visitation to two daily time blocks. Patients will be able to have one visitor per each time block.
The time blocks consist of the following:
• 11:30 a.m. to 1:00 p.m.
• 4:30 p.m. to 6:00 p.m.
To maintain a safe patient care environment, visitors must:
• Be 18 years or older.
• Bring your own mask and wear it at all times, while in the hospital.
• Pass screening in order to gain entry. Should a visitor fail the screening process, that visitor will not be permitted into the hospital.
• Upon screening completion, visitors must proceed directly to the patient's room. Visitation is restricted to the patient's bedside only.
• Follow all Hotel Dieu Shaver infection prevention measures, including meticulous hand hygiene and physical distancing throughout the visit.
• All visitors are asked to enter through the inpatient building front entrance.
• Visitors are not permitted to bring food or drink in at this time.
• Visitors are kindly asked to keep deliveries and personal items to a minimum, as all items need to be sanitized before granted entry.
Limited exceptions to this visiting policy for extenuating compassionate reasons will be made on a case by case basis.
Please download HDS' Visitation Brochure for all information.
---
Outpatient Services Ramp Up - June 30th, 2020
We are pleased to announce that Hotel Dieu Shaver has received approval from Ontario Health and Niagara Public Health to move forward with resuming outpatient services based on a gradual phased approach. In doing so, we are committed to providing information that will help ensure high-quality, safe care and communicate with patients and families about this gradual phased process.
Beginning Monday July 6th 2020, HDS will begin reintroducing outpatient services. As it pertains to hospital ramp up of services, a tiered methodology will be applied. This methodology includes an ethical decision-making framework in determining a phased/gradual ramp-up approach reflecting the prioritization of patients in accordance to their health care needs, risks, and available supports. We are beginning to resume some appointments and procedures that were paused due to the COVID-19 pandemic.
As we are applying a tiered approach to resuming outpatient services, we will contact you directly once we are ready to provide you with an appointment. We appreciate your patience as we work through this process.
Please download HDS' Outpatient Appointment FAQ's here.
---
Current Suspensions & Closures
To protect health and strengthen safety, until further notice, we are cancelling the service we receive from the following individuals:
Patient Advisors

Students (work placements or volunteers)

Volunteers and Auxilians

Due to reliance upon volunteers, the Gift Shop will be closed until further notice.

The "Dieu Drop In" Cafe will only be open from 11:15am – 2:30pm from Monday to Friday only. Items will be available for take-away only.
---
Niagara Region Public Health
Website: https://www.niagararegion.ca/health/covid-19/default.aspx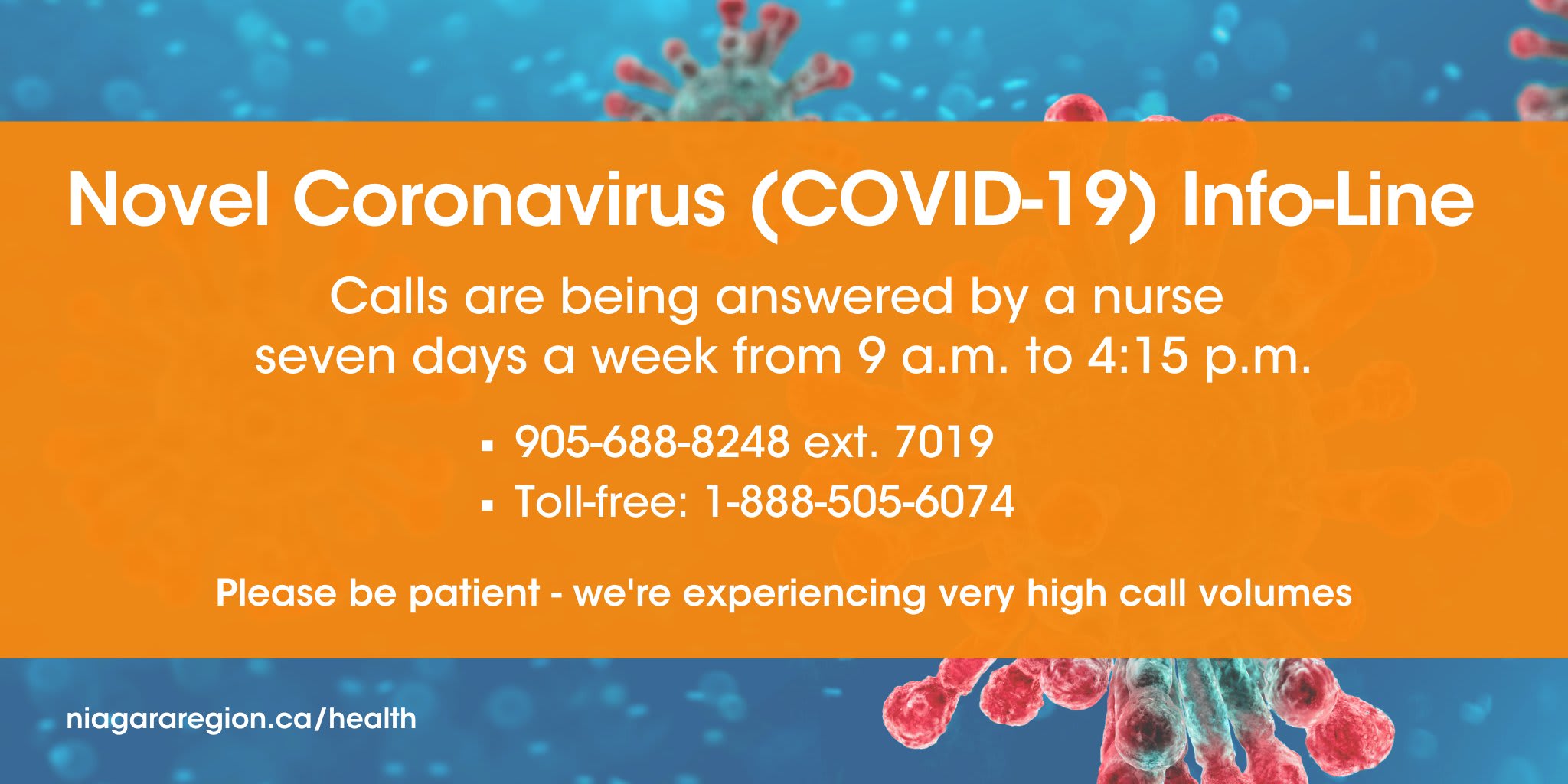 ---
Self-assessment
The Ontario Ministry of Health has created a new tool to help people self-assess for COVID-19. Unless you are experiencing an emergency, please use this tool before seeking medical help for possible COVID-19.

Self-assessment tool: https://www.ontario.ca/page/2019-novel-coronavirus-covid-19-self-assessment 

From the Ontario Ministry of Health's website:
If you think you have 2019 novel coronavirus (COVID-19) symptoms or have been in close contact with someone who has it, use this self-assessment to help determine if you need to seek further care.

If you are having difficulty breathing or experiencing other severe symptoms, call 911 immediately. Advise them of your symptoms and travel history.
---
Niagara Region Assessment Centers Now Open
The Assessment Centres are available by referral only from Niagara Region Public Health. People who suspect they may have a COVID-19 infection are being directed to contact them at 905-688-8248 ext. 7019 or toll-free at 1-888-505-6074. Assessments are by appointment only.
Allied Health Building (5673 North Street, Niagara Falls)
Niagara Health - St. Catharines site (1200 Fourth Ave, Niagara Falls)